Extended Studies News
Check out our Adult Summer classes at Extended Studies! Online and in-person classes available!
Tile making, watercolour, outdoor art, design for social media, and more!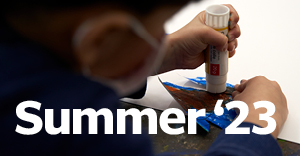 Camps By Age
Ages 5-7
Ages 8-10
Ages 9-12
Ages 11-12
Ages 13+
Camps By Week
Week 1: July 4-7
Week 2: July 10-14
Week 3: July 17-21
Week 4: July 24-28
Week 5: July 31-August 4
Week 6: August 8-11
Week 7: August 14-18
Week 8: August 21-25
Camp Information
Registration for NSCAD Extended Studies' summer day camps is open now! Join us in person this summer for our week-long art camps, full of skill-building, experimentation, and, most of all, FUN! Our summer camps for ages 5 to 18 run from July 4th to August 25th, 9am until 4pm, with early drop off and late pick options available at no additional cost.
Please let us know if your child has any behavioural or medical conditions that the instructor would need to know about at the time of registration. Extended Studies instructors and staff will attempt to accommodate different learning styles and needs as much as possible. If a student requires a support person at school, it is recommended that the support person accompany the student to our art programs, as we do not have the resources for 1:1 instruction. We are happy to include support staff in our programming.
Creative Entrepreneurship Lab (CEL)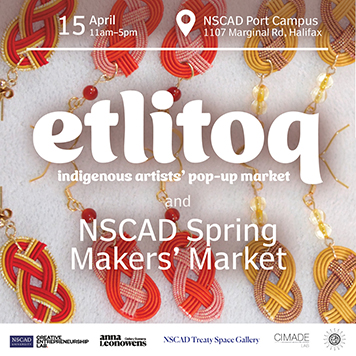 Meet some of our makers HERE
NSCAD Art Factory

The goal of the Art Factory program is to enhance art education to at-risk, marginalized, and under-represented populations, while providing valuable, cultural-sector employment, training, and community engagement opportunities to NSCAD Students. The NSCAD Art Factory makes art accessible to all. The Art factory brings the community into NSCAD, and extends NSCAD into the greater community through outreach and innovation.
Our programs provide senior students (3rd-4th year with with a strong understanding of their medium and its processes) paid training, support and mentorship in workshop development and delivery. The Art Factory provides a unique opportunity to access NSCAD University's professional equipment and facilities of community members. Through mutually beneficial community engagement, Extended Studies works to connect with community and foster curiosity for art, making and learning.
Required fields are indicated by .