Extended Studies News
There's a chill in the air, the perfect season to learn new art skills!
We've got a wide selection of art, craft, and design classes for children, youth and adults, both online and in-person!
With new classes in:
We've also hosting a collection of classic courses:
And many more! Check our our course offerings for more details.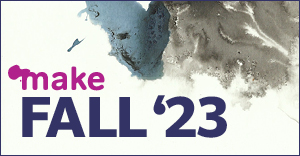 CEL and Maker's Co Collaboration
Side Hustling for Creatives is a live, 6-week online course that will provide you with a roadmap and the support you need to succeed on your journey as a creative entrepreneur. In addition to the weekly course, there will be weekly office hour sessions where you can ask focussed questions about your business ideas.
Led by experienced creative entrepreneurs, you will learn how to identify your ideal target customer, how to position and price your offer, and how to plan a successful launch. You'll also learn new systems to manage your time and energy so you can follow through on growing your side hustle without falling into the burnout trap.
Over the course of six transformative weeks, we will focus on the following key areas:
Time and Energy Management: Learn proven systems to effectively manage your time and energy, enabling you to avoid burnout and maintain a healthy work-life balance.

Overcoming Mindset Blockers: Discover how to navigate common challenges such as self-doubt and imposter syndrome, unlocking your true potential and unleashing your creativity with confidence.

Practical Business Skills: Acquire the necessary skills to build a thriving creative business. We will delve into identifying your ideal target customer, pricing your offers strategically, and planning a successful launch to maximize your impact and income.
Dates October 12th, 2023 to November 16th 2023
Time 7:00pm to 8:30pm AST (online)
Cost $250
Extended Studies is excited to support the The Maker's Collective curriculum in partnership with NSCAD's Creative Entrepreneurship Lab (CEL).


NSCAD Art Factory

The goal of the Art Factory program is to enhance art education to at-risk, marginalized, and under-represented populations, while providing valuable, cultural-sector employment, training, and community engagement opportunities to NSCAD Students. The NSCAD Art Factory makes art accessible to all. The Art factory brings the community into NSCAD, and extends NSCAD into the greater community through outreach and innovation.
Our programs provide senior students (3rd-4th year with with a strong understanding of their medium and its processes) paid training, support and mentorship in workshop development and delivery. The Art Factory provides a unique opportunity to access NSCAD University's professional equipment and facilities of community members. Through mutually beneficial community engagement, Extended Studies works to connect with community and foster curiosity for art, making and learning.
Required fields are indicated by .