Extended Studies News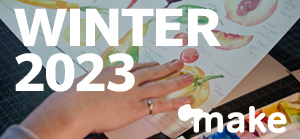 Join us for a wonderful season of making, online and in person! Whether in the cosiness of your own home or the professional studios at NSCAD, you will be guided through a journey of creativity and connection with our exceptional instructors. Click here to see all courses!
Winter course highlights include:
INKfinite Possibilities: Silk Screen Printing Patterns on Fabric
Water and Words: Watercolour Painting and Creative Hand Lettering Online
Comics: Experimental Structures
March Break registration is open now!
NSCAD Extended Studies is offering March Break camps from March 13 to 17, 2023 for ages 5 to 18. Reach out to us at make@nscad.ca or (902) 494.8224 with any questions you may have. NSCAD Extended Studies camps include all materials. Early drop off and late pick up options available from 8:30am to 5:00pm at no additional cost.
Click here to view camps and register today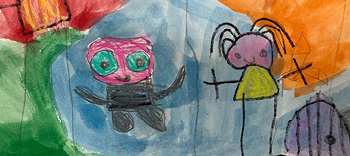 NSCAD's COVID-19 current protocols will be continuing in the winter 2023 semester.
Masks will be required in the library and in all indoor classrooms, studios and shops at all three NSCAD campuses, including Extended Studies courses.
Masks are strongly encouraged in other common areas of our campus.
Although proof of full vaccination is not required, we strongly recommend everyone be up to date with their vaccinations, including boosters.
Please stay home if you are sick and only return to campus once you no longer have any symptoms.
Full protocols can be viewed on NSCAD's website. Please email OHS@nscad.ca with any questions you may have.
Creative Entrepreneurship Lab (CEL)
Artist-in-residence Ubisoft Halifax: Call for submissions
The duration of the residency is 4 to 6 months, starting February 2023. The artist must be on site for an average of 3 to 4 days per week.There will be an artist grant of approximately $150 per day up to a maximum of $9,000 in total.
Application deadline: November 18th, 2022 at midnight AST
Apply here

for more information contact Erinn Langille, Coordinator of the Creative Entrepreneurship Lab (CEL).
elangille@nscad.ca
Please see links below for all CEL Opportunities and Resources:
NSCAD Art Factory

The goal of the Art Factory program is to enhance art education to at-risk, marginalized, and under-represented populations, while providing valuable, cultural-sector employment, training, and community engagement opportunities to NSCAD Students. The NSCAD Art Factory makes art accessible to all. The Art factory brings the community into NSCAD, and extends NSCAD into the greater community through outreach and innovation.
Our programs provide senior students (3rd-4th year with with a strong understanding of their medium and its processes) paid training, support and mentorship in workshop development and delivery. The Art Factory provides a unique opportunity to access NSCAD University's professional equipment and facilities of community members. Through mutually beneficial community engagement, Extended Studies works to connect with community and foster curiosity for art, making and learning.
Required fields are indicated by .