News & Announcements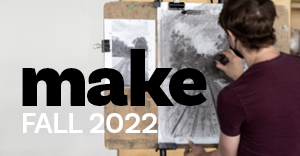 Check out NSCAD Extended Studies' selection of fall art courses for everyone, including fan favourites, such as Introductory Throwing and our Saturday Youth Art Classes, and those soon to be, such as Watercolour Painting: Birds of a Feather. Click here for a full list of courses being offered.
About

Imagine Explore. Express
Making art is easier than you think! Whether you're interested in career or personal enrichment, taking courses as a stepping-stone to full-time studies, or just for the fun of it, we offer a wide range of short and long term courses, workshops, open studios and online courses. We offer approximately 180 courses and camps throughout the fall, winter, spring and summer terms. Join us to explore your passion.
Extended Studies is a conduit for bringing the community into NSCAD and to extend NSCAD into the greater community. At Extended Studies, we make art accessible through outreach and innovation. Our programs provide a unique opportunity to access NSCAD University's professional equipment and facilities. We provide community access and demystify art in a supportive environment.
Required fields are indicated by .